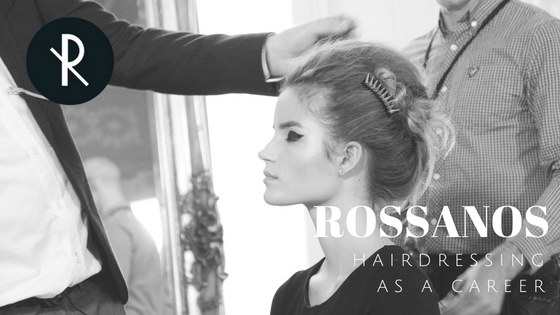 Hairdressing as a Career
So you've thought about Hairdressing? We at Rossano's Hair and Beauty Group wanted to take the time out to share with you a little insight into the vibrant world of hairdressing. Hairdressing is an ever growing and ever changing industry and a trade that offers you a passport to the world.
Working as part of an artistic team means everyday is so varied. At Rossano's our team meet new challenges daily; everyday is a learning day. The team love the variety of people they cross paths with and the stories they get to hear along the way. Some say to be a hairdresser you need a degree in counselling also (Just Kidding) but it's not just about how you make that client look, our girls aim to leave that client feeling better about themselves. It's a very personal one to one experience when working with a client and we see close bonds form daily between the stylist and their clients.
At Rossano's Hair and Beauty Group we are big on education and a start with us opens an array of opportunities to train and travel and experience the colorful world of hairdressing. We pride ourselves on being part of the Redken Tribe and our girls travel internationally to Dublin, London and even Vegas to grow their talents and train in some of the world's leading L'óreal Academies. We train in house on a weekly basis and we operate a shadowing program daily so there is no such thing as just sweeping the floor the experience in training is there every day, it takes passion to absorb it and make the most of it. We are a luxury salon and we work and train with brands such as GHD, Kérastase, Tangle Teezer, Pureology and more.
Asides from training and education opportunities to travel we are BIG on competitions and events and our team have had a stellar year this year when it comes to competitions. A big shout out to Rossa, Elaine, Aine and Lisa who all took to the stage this year to compete for leading international titles such as the L'óreal Color Trophy, Best of the Best Hairdressing, Alternative Hair and IHF. Just a few more glory moments to add to a long line of trophies and awards.
Being part of an international tribe of hairdressers we get the privilege of meeting and training with leading names in the industry and our team are very lucky to have met and taken advice from some top names such as Adam Brown, Chris Moody, Keith Owen, Kelly Scott and many more.
But hairdressing is not for the faint hearted and all these rewards come at a price. It takes a lot of hard work, patience, dedication and perseverance to work in a fast paced environment delivering excellence in service and team work. Not alone that but it is an acquired skill in itself to communicate with your client and make that connection to be able to find out what they really want and work with them to achieve that goal and we haven't even mentioned how long it takes to acquire the skill set and constantly keep on top of your training and development to stay up to date with all the latest trends and techniques. But one thing is for sure if the passion is there the hard work is worth it and Rossano's offer everything you need in terms of support, guidance, education and opportunity along the way.
At Rossano's we are very lucky to have a very talented, hard working team of hairdressers. We have a number of Redken Color Specialists within our team and Kérastase Hair Care Specialists. There is a culture of team work as well as competition and our team are constantly breaking targets and meeting new goals as individuals and as part of a team.
We hope you enjoyed our little insight to our team and the colorful world of hairdressing.