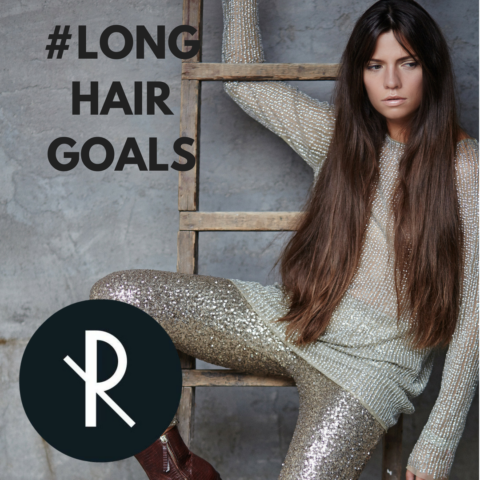 Long Hair Goals Here's How
Long Hair Goals – Stylist Secrets
Rapunzel, Rapunzel let down your long hair… Not quite but pay attention ladies because long hair goals have just got easier. At Rossanos Hair and Beauty Group we have an exciting new product and to celebrate we are sharing with you a "Long Hair Goals Action Plan" put together from our team of hair coaches aka stylists.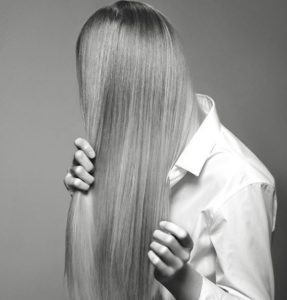 Top Tip: Our ends are further away from our scalp therefore they receive less natural oils and are in need of lots of T.L.C. So regular trims and treatments to increasse strength, nourishment and banish split ends.
Introducing Kérastase Extentioniste
It's the hair care secret you've been dreaming of since you were an awkward teen with a bad hair cut admiring your class mate's long luscious braids. You might have tried nourishing treatments before and wondered why they haven't worked? The key word here is STRENGTH. If you don't give your hair the care it needs when growing your ends become weak and broken. Your hair needs to be healthy and strong to grow, so for added force here it is….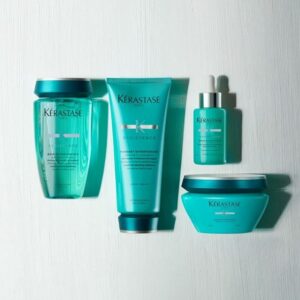 Kérastase Extentioniste Length Strengthening Shampoo
Bain Extentioniste's breakthrough technology, Creatine R Complex, helps to strengthen the hair and add flexibility; that means less breakage. With Taurine added to promote a healthier scalp environment stimulating hair growth you will be on your merry way to long luscious locks.
Kérastase Extentioniste Restorative Conditioning Cream
Fondant Extentioniste's length strengthening conditioner reinforces the internal structure of the hair fiber restoring it to it's natural condition and then sealing the cuticle for further protection and damage prevention. Bye Bye breakage!!
Kérastase Extentioniste Deep Nourishing Treatment Masque
Masque Extentioniste's deep nourishing treatment penetrates the hair fiber to work on even the most damaged ends to recover them to perfect condition. There's hope for us all!!
Kérastase Extentioniste Energizing Leave In Serum
Serum Extentioniste's grease free formula can be applied 1-2 a week to help restore and reinforce the hair's fiber cuticle when growing. This beautiful product can be massaged gently into the scalp which improves circulation, relieves stress and promotes faster hair growth. What's not to love about this hair care ritual.
T.L.C – Minimize the Damage.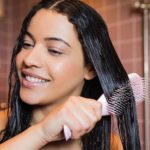 Wet brushing is either going to make or break you. Literally! That is why a wet brush or a Tangle Teezer is an absolute must. A Tangle Teezer will change your life. No more fuss, damage or breakage just effortless brushing, smoothness and strength.
Heat styling is your best friend and your worst enemy. Is it time to beat the heat? Have you got what it takes to go on a heat ban? Or at least cut it down to once a week. Are you guilty of blast drying and straightening and then straightening some more to try to hide the heat damage? News flash! It's a vicious circle and it doesn't work.
Give your hair a break and opt for air drying or finish with a heat free styling option.
Push yourself to try new things.
Redken's No Blow Dry for the Perfect Beach Wave.
Kérastase's Discipline Oleo Curl, put the bounce back into your natural curl frizz free.
Braids and Buns are your new best friend.
Avoid tying your hair up especially when wet.
However attached or unattached you are to heat styling, it is an absolute must that we always use a heat protector on our hair. Whether we are blow drying, straightening, wanding or crimping it up, Kérastase have a couple of really cool heat protectors with built in technology that will reactivate when you re-heat your hair (which we hope you won't too often).
Treatment and Trimming – How Often When Growing?
Asides from your 3 step shampoo, conditioner and styling product we recommend you take at least one evening a week to treat your hair to a deep nourishing mask. Alternatively, pop into the salon for one of our luxury intensive treatments. Why not try our new in salon Kérastase Extentioniste Treatment as part of your Long Hair Goals Action Plan and speak to your stylist for extra guidance on looking after your crown jewels.
If you want to grow your hair long and luscious, but you are holding onto dead ends for length, then you are wasting your time because they will just keep splitting up the way. We need to keep on top of our hair-cuts to eliminate damage and we recommend once every 2 months for growing hair.
We hope you enjoyed our post. For more information contact any of our 3 salons or pop in for a consultation, advice is free.