Situated in the oldest town in Ireland and the home of Directors Rossa and Rosemary Danagher, Rossano's salon in Ballyshannon is the flagship salon of the Rossano's group and established since 1999. With a long established loyal clientele Rossano's Ballyshannon is your local friendly salon with a big personality.
With its urban vibe and graffiti artwork this salon gives you a sense of being in any big city, with all the benefits of a small town salon; top stylists, best coffee, new magazines and a 'Cheers' welcome – where everyone knows your name!
With an experienced make-up artist and dedicated make -up area in salon, we can provide the overall makeover you are looking for. From bridal to any occasion make-up we will make you feel fabulous.  When it comes to hair and make-up Rossano's Ballyshannon is the perfect combination that invites you to simply relax, unwind and leave us feeling great.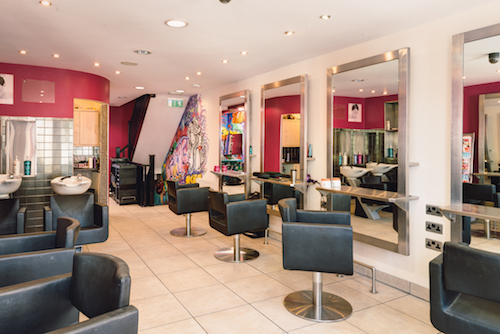 APPOINTMENT TIMES
Monday: 9:00am – 6:00pm
Tuesday: 9:00am – 6:00pm
Wednesday: 9:00am – 6:00pm
Thursday: 9:00am – 8:00pm
Friday: 9:00am – 8:00pm
Saturday: 9:00am – 5:30pm
Styling
Creative Director
Senior
Stylist
Stylist
Junior Stylist
Ladies Cut
55.00
55.00
48.00
38.00
Long Blowdry
24.00
24.00
24.00
24.00
Short Blowdry
22.00
22.00
22.00
22.00
Curly Blowdry
26.00
24.00
24.00
24.00
Students Cut from 13 years
N/A
45.00
38.00
28.00
GHD Curls
36.50
31.50

31.50
26.00
GHD + Upstyle
47.00
47.00
36.50
36.50
Upstyle
36.50

36.50
31.50
31.50
Re-Style/ Fashion cut
60.00
60.00
50.00
40.00
Bridesmaid
50.00
50.00
50.00
50.00
Bridal Upstyle
75.00
75.00
75.00
75.00
Children's (3-12 years)
N/A
14.00
14.00
14.00

Colour

Root retouch + cut
88.00
88.00
81.00
71.00
Root retouch + blowdry
60.00
60.00
60.00
60.00
Root retouch +
floods + cut
110.00
110.00
101.00
88.00
Root retouch
+ floods + blowdry
87.00
87.00
87.00
87.00
Root retouch +full head Hi lights + cut
125.00
121.00
115.00
107.00
Root retouch+ full head Hi lights + blowdry
108.50
108.50
103.00
92.00
Masking
(parting retouch)
21.00
21.00
21.00
21.00
Gloss
( colour through to the ends with a root retouch)
short- 5.50
long-10.50
5.50
10.50
5.50
10.50
5.50
10.50
Gloss extra long
15.00
15.00
15.00
15.00
Gloss services not including a blowdry
from 20.00
from 20.00
from 20.00
from 20.00

Easi- Meche Hi-Lites

Full Head Long + Cut
142.00
140.00
133.00
121.00
Full Head Long + Blowdry
108.00
108.00
105.00
105.00
Full Head Short + Cut
121.00
121.00
114.00
104.00
Full Head Short + Blowdry
103.00
103.00
92.00
92.00
Half Head Long + Cut
115.00
115.00
107.00
97.00
Half Head Long + Blowdry
92.00
92.00
92.00
84.00
Half Head Short + Cut
102.00
102.00
95.00
85.00
Half Head Short + Blowdry
81.00
81.00
81.00
71.00
global pre-lightener root colour
4wks 50.00
4wks+ 70.00
50.00
70.00
50.00
70.00
N/A
Balayage and Ombre
guideline prices including toner, bonder, cut and blowdry.


from 185.00 based on med/long

from 185.00

from 170.00

from 163.00

Check in salon for balayage offers
Express Colour services available from €20.00
Ask in salon for more details
12 Week Blowdry price based on length and density of hair.
120.00-200.00
Bonder/ Oplex
(varies on hair length, short ,long, extra long)
from 10.50- 26.00

Gents

Gents Fashion Cut
22.00
22.00
16.00
16.00
Gents Cut
22.00
22.00
16.00
14.00